Island Style Living: From Beachfront to Hillside
Sugar Reef Bequia's eight guest rooms (named after the Grenadine Islands) are located in our French House and Beach House on our 65-acre estate on the reef-protected bay.
Designer Jonathan Berger updated Sugar Reef Bequia, which was built 30 years ago of local-sourced stone, mahogany, and other natural materials. The structure is eco-friendly; incorporating deep verandas, high cathedral ceilings, and French windows that the island breeze flows through.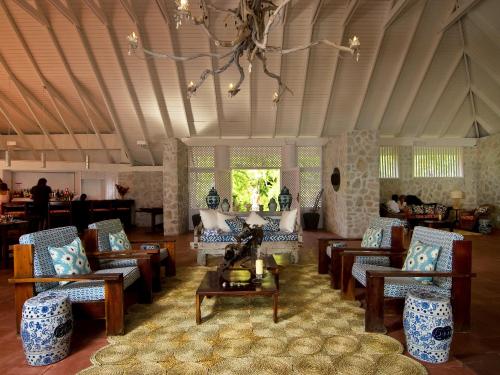 Our Beach House is open seasonally from Christmas to Easter.
The Beach House itself consists of a massive elegant Great Hall, which houses a full bar, our highly-rated restaurant Sugar Reef Café, and three simplistic, recently-renovated beachfront guest rooms.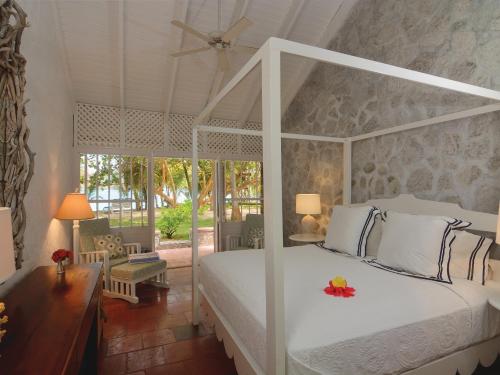 BEACHFRONT ROOMS
Located: in Beach House
Max guests: 2
Bed type: 1 king-size bed
View: Beachfront
Extras: Private balcony with Adirondack chair and lounge chair

French House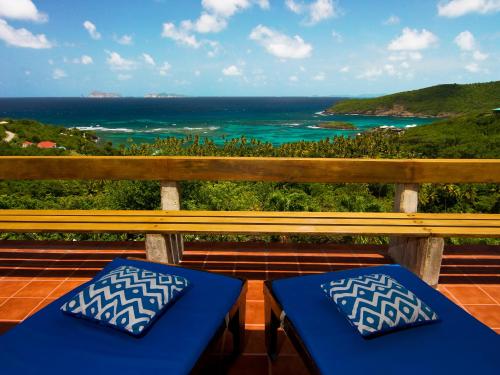 Our French House is open all year round.
It sits a few-minute drive from the Beach House and consists of five uniquely decorated hillside accommodation, a saline plunge pool, wrap-around veranda, a self-serve honor bar, a fully equipped shared kitchen, and an open-air great room complete with books and games (all exclusively for French House guests).
MORE DETAILS ABOUT FRENCH HOUSE HERE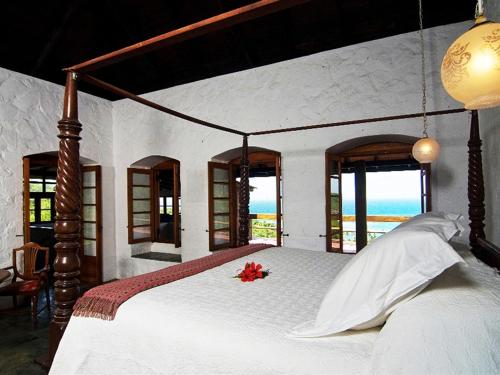 MASTER SUITE
Located: French House
Max guests: 3
Bed types: 1 king-size bed, and 1 twin-size bed in an additional room
View: Tropical forest
Extras: Private furnished veranda, veranda leads to the plunge pool

BALICEAUX ROOM
Located: French House
Max guests: 2
Bed type: 1 king-size bed

View: Ocean

BATTOWIA ROOM
Located: French House
Max guests: 2
Bed type: 2 queen-size beds
View: Ocean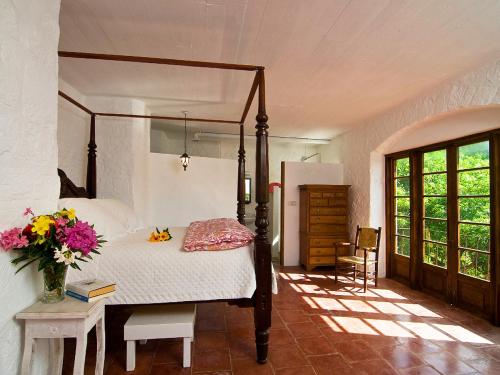 SECRET GUESTS ROOM
Located: French House
Max guests: 2
Bed type: 1 queen-size bed
View: Tropical forest

Extras: a small Juliette balcony, secluded location for extra privacy, and air-condition option for an additional charge (US$30/night)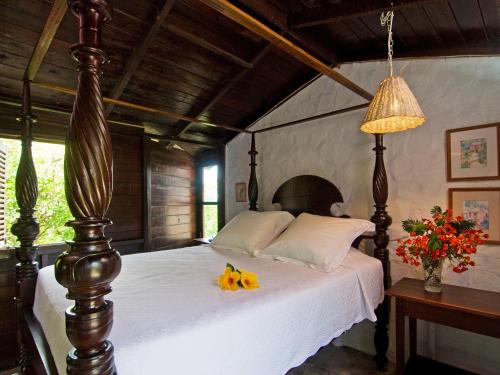 MISTRESS'S COTTAGE
Located: French House
Max guests: 2
Bed type: 1 queen-size bed
View: Tropical forest

Extras: Top of the shower area is open to the forest so you can immerse yourself in nature